Lawn Care Services
We provide high quality lawn care services for both residential and commercial customers in Fargo, West Fargo, Moorhead. No matter what your lawn care needs, Welk's Lawn Care will customize a full service lawn care package that fits your needs.
Lawn Mowing
Lawn mowing is our foundational service at Welk's Lawn Care. We take great pride in making your property look its best with our professional lawn mowing services. Details matter to us! You can be assured that we remember the little things that matter such as closing your fence gate before we leave and returning your gutters and sump lines to the position they were in before we arrived.
Services include:
Basic Lawn Mowing - includes mowing all grass areas, line trimming around landscape borders, fences and other objects, and blowing off all concrete areas.
Full Service Mowing – includes mowing all grass areas, line trimming, lawn edging on driveway and sidewalks with a crisp edge maintained all season, and blowing off all concrete areas.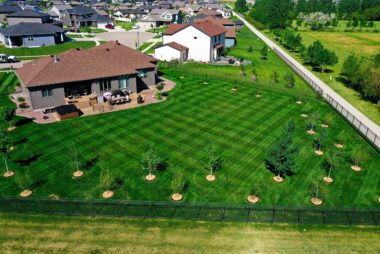 ---
Fertilization & Weed Control
Your lawn should be regularly fed and watered for optimal health and appearance. Simply let us know how many fertilizer applications you would like per season, and we take care of the rest.
Spring – includes fertilizer application to strengthen the roots and get your yard off to a good start before the heavy growing season and warm days.
Early Summer – includes fertilizer application for the busy growing season and hit broadleaf weeds that emerge this time of year.
Mid/Late Summer – includes fertilizer application to feed your lawn in the summer months to protect and strengthen it against insects, heat, drought, foot traffic and other seasonal issues.
Fall – includes fertilizer application to prepare your yard for winter; strengthen roots and increase nitrogen storage for an early spring green up and healthier lawn next year.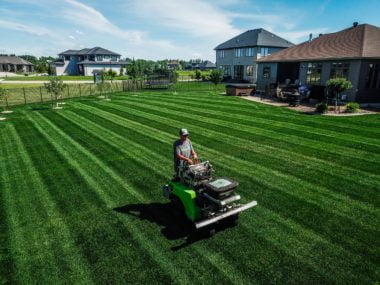 ---
Lawn & Landscape Maintenance
Does your lawn need some extra care and rejuvenation? Our team can help restore and keep your lawn looking healthy, lush and green.
Dethatching– Thatch can keep water and air from reaching the soil and if left untreated, can create an environment that harbors pests and diseases. Dethatching removes those layers of dead grass, roots and debris matted between the soil and the growing grass, keeping the grass greener and healthier.
Aeration - Removes small cores of soil from your lawn to reduce soil compaction and promotes root growth for healthier grass.
Overseeding – Plant grass seed into existing turf – without tearing up the soil.
Spring and Fall Cleanups – Can include cleaning leaves and debris from your lawn or landscape beds, reducing perennials, removing sand from boulevards or anything else needed to prepare your property for the upcoming season.
Lawn Repair – We can fix bare or problem spots in your lawn
Lawn Edging – Let us maintain a crisp lawn edge on your driveway and sidewalks. This gives your property a professionally maintained appearance that sets it apart from the rest.
Tree and Shrub Trimming – We will trim and prune overgrowth to improve the health and appearance of your landscaping.
Landscape Bed Weeding – Let us keep your landscape free of those pesky weeds.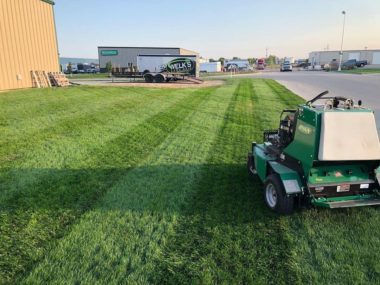 ---
Snow Removal


Leave the Snow to Us! We are a full service snow company with a Commercial Divison and Residential Division ready to serve all of our clients needs.